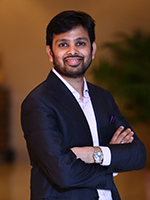 Ankit Jain
An Engineer by education, CA. Ankit Jain started his career as a Chartered Accountant with Deloitte. He thereafter joined Ved Jain and Associates as Partner and currently specialises in Business Advisory and Consulting, International Taxation, GST and FEMA.
During the course of his career, Ankit has handled multitude of challenges in different sectors. He has been instrumental in setup and advisory of various Multi-National Corporates in India from sectors such as Power, Advertising, Network Security, Software Development amongst others. With his team, he has helped in transition to Goods and Services Tax from the excise, service tax and VAT regime for leading corporates in both private and public sector.
He has given various seminars on GST and other topics and is also actively involved with the Institute of Chartered Accountants of India. He has been a part of Young Members' Empowerment Committe (2014-15) and of the Committe for drafting of Guidance Note on Hydropower Projects (2021).